Skeletons, old prom dresses, 50 pairs of shoes...we all have closets full of stuff. As you ready your avatar for the BlogHer '07 conference in Second Life, think of your "inventory" as your virtual closet.
"Fine, Queen...but what the heck is my inventory?"-fair enough. Your inventory is one of the options on the bottom right of your screen when you are logged into Second Life. If you click on it and open it, you will find folders and items and "landmarks" and "notecards" and clothing and all sorts of fun things that make your avatar's life so darn exciting.
Everything you purchase, everything you are given, everything you "take" in Second Life goes into your inventory. All the items you find in there can either be opened, worn, attached, detached, or highlighted and dragged from its inventory slot and onto a virtual surface. Someone gives you a supercool new t-shirt to wear? Find it in your inventory, highlight the shirt and "add to outfit" or "wear."
The same way you put on the object, you can take it off. Find it in your inventory, highlight it, and "remove" or "take off item."
You can do the same with virtual drinks, food, jewelery, purses, bubble gum, bouquets of roses, hats, lizards for your shoulder, tattoos, angel wings, tails, high heels...you get the idea.
Your inventory is your Second Life closet, storage space, and garage. It can house your hoverboard, your motorcyle, your jetpack, and your hot air balloon. Which is really good considering BlogHer in Second Life sponsor AskPatty.com has some fun racing toys in store for you at her BlogHer conference exhibit.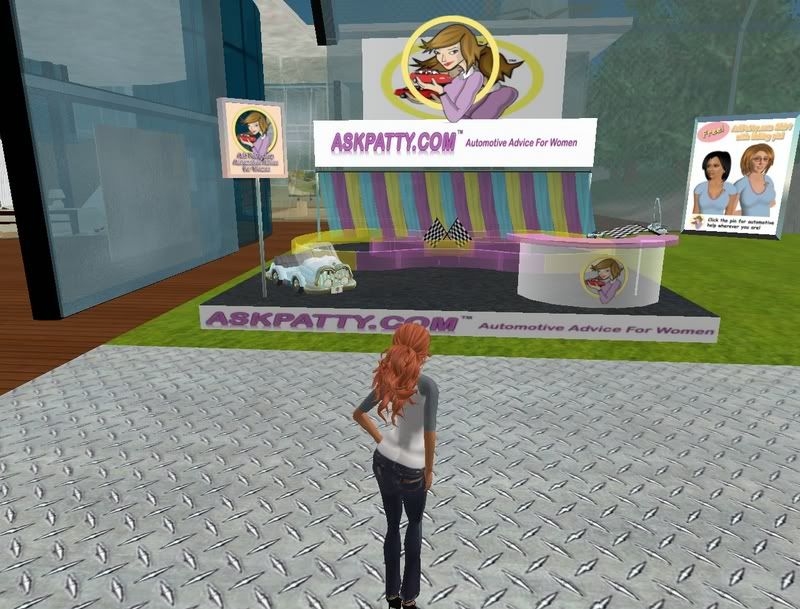 Registration is FREE so for those of you who can not make it to Chicago, you have no excuse! We're even working up some Second Life exclusive sessions with some amazing panelists. Stay tuned and ready that inventory for all the virtual freebies!
Queen office hours-I am here to HELP YOU navigate Second Life! (all times Pacific)
Monday 10-2pm
Wednesday 10-2pm
Thursday 5pm-8pm
Sunday 4-7pm
Instant Message "Queen Tureaud" while logged into Second Life or send an email to queenofspainblog@yahoo.com during office hours and I will come FIND YOU and HELP!!!